Karen and I arrived in Vancouver, Canada several hours before the ship set sail. We actually flew into Seattle Saturday night and rented a car to drive to Canada. Sunday morning, we arrived in Vancouver and spent several hours before sailing time sightseeing around Vancouver. Most of the time was spent driving through Stanley Park and in the downtown area of Gastown.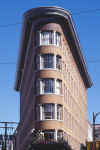 Building in downtown Gastown

Street artist in Gastown. I like this shot because the canvas became transparent with the sun shining through it.
Steam Clock in Gastown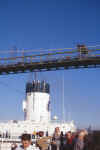 Our ship passing under Stanley Park Bridge, Vancouver, Canada